What's black, white, purple and cut to $199.99? The Motorola DROID RAZR is!
19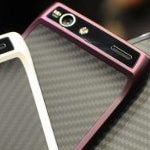 With the introduction on Monday of
the Motorola DROID RAZR MAXX
and its 3300mAh battery, something had to give price wise with the
Motorola DROID RAZR
. After all, you can't just price a 32GB phone with an incredibly large battery at the same $299.99 price point on contract that you have for a 16GB version of the same phone with a smaller cell. Even if the latter is a bit more svelte than the
Motorola DROID RAZR MAXX
, it made good business sense to cut the price of the DROID RAZR to $199.99 with a two-year contract.
new purple color
for the device? That brings to three the number of colors that the handset is available in, black,
white
and purple. It might be pretty to look at, but when the battery icon shows empty, you might wish that you had picked the DROID RAZR MAXX. And that is another issue for another day as Motorola and Verizon quickly went from Motorola DROID BIONIC to Motorola DROID RAZR to Motorola DROID RAZR MAXX.
Surely there are some Verizon customers out there who are sorry that they got locked in to what they thought was the
flagship phone
for the moment only to find something a bit more advanced coming out weeks later. It makes you wonder what the pair have up their sleeve next.
source:
AndroidCentral