What will the OnePlus 2 tell us about the forthcoming Oppo Find 9?
16
We are just about two weeks away from the highly anticipated announcement of the follow-up to the well praised and thoroughly controversial
OnePlus One
. The self-described "flagship killer" provided top-shelf specifications with highly customizable software put together by Cyanogen, and a rock-bottom price.
Despite whatever proclamations,
documentation
, or
divergences
in business practices, to say that OnePlus and Oppo do not have a close relationship is simply ignoring reality.
From packaging, to repurposed components, the OnePlus One made very good use of Oppo's well respected build quality principles, distribution channels, and put together a well-received, albeit
frustrating-to-buy
smartphone.
If you look at parts of the
Oppo Find 5
and
Oppo Find 7
, it is easy to spot similarities on the OnePlus One. That is not a bad thing, the Oppo smartphones are handsome, very well made, and work great.
Given of OnePlus' disposition as it relates to Oppo, and shared design principles, it is reasonable to expect that the OnePlus 2 will also share a number of common components with its upcoming Oppo cousin, the yet-to-be formally announced
Find 9
.
Taking the physical features of the OnePlus One and the Oppo Find 7, the devices are obviously brothers from different mothers. Their physical dimensions are within fractions of a millimeter of each other. Their internals share the same Qualcomm CPU, Samsung sourced flash storage, and Sony Exmore IMX214 camera sensor.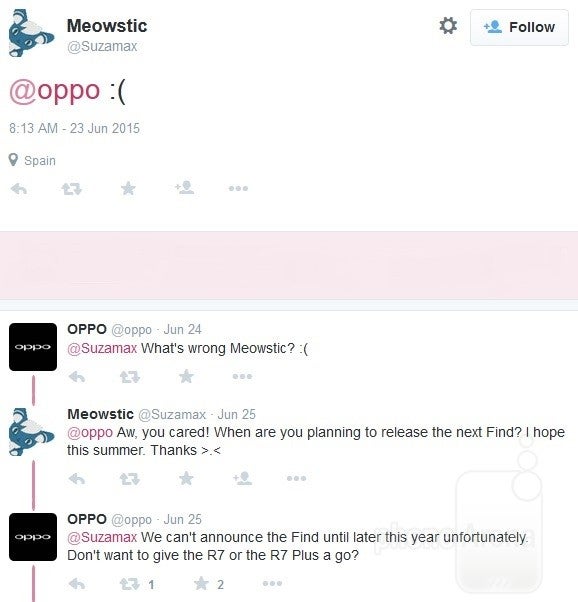 For the next generation of "flagship killers" from OnePlus, even if the OnePlus 2 takes more noticeable design departure, there is every reason to expect the internals will be the same, and the
confirmed specifications from OnePlus
so far line up with the
rumors surrounding
the Find 9.
So far, OnePlus has confirmed its forthcoming smartphone will have 4GB of RAM, Qualcomm Snapdragon 810 CPU, a fingerprint scanner, and USB Type-C connector, some of those specs line up with what we have been hearing about the Find 9. Rumors dominate the rest of the spec sheet, but the
leaked images
of the OnePlus 2 and
Oppo Find 9
clearly share a common design language.
July 27th will reveal
all we want to know about the OnePlus 2, it may very well indicate a significant portion of what Oppo has in store for us with the Find 9, which will be announced "later this year."