What to expect from Apple's WWDC event in June 2019: iOS 13, watchOS 6, macOS 10.15
10
Google's I/O 2019 is ending today, but don't think the news-heavy developer summits are over this spring. Quite the contrary: Apple's very important WWDC summit is happening next month, holding the promise for tons of announcements centered around Apple's own iOS and macOS. Both are expected to score a trove of novelties in their fresh new versions, and WWDC can't come soon enough.
This year's conference will kick off with the traditional keynote on June 3 in the McEnery Convention Center in San Jose, California.
But what should we expect from Tim Cook & Co at WWDC '19, and what's in the cards for iOS and macOS this year? Well, we seem to have the rough outlines of what to expect, so let's explore together!


iOS 13

Look at the event invitation above. If this doesn't scream "dark mode" to you, then nothing else will.



Appearance changes
Indeed, dark mode is expected to be one of the major new features of iOS, one which has been requested for years and makes tons of sense now that Apple has almost fully embraced OLED as its screen technology to go. Judging from certain leaks and whatnot, Apple's take on the trendy dark mode will allow users to toggle "black and grey-heavy interface" through a respective toggle in Control Center. This way, your eyes will be spared from the blindingly-bright iOS interface during the night when you're battling your insomnia by being on your phone.
A new set of leaked design images claim to be showing what iOS' dark mode would look like. The images reveal the presence of a built-in Dark Mode that can be activated via the Control Center or inside the Settings app. As previously speculation, it relies heavily on dark greys but also throws in deep OLED blacks when possible.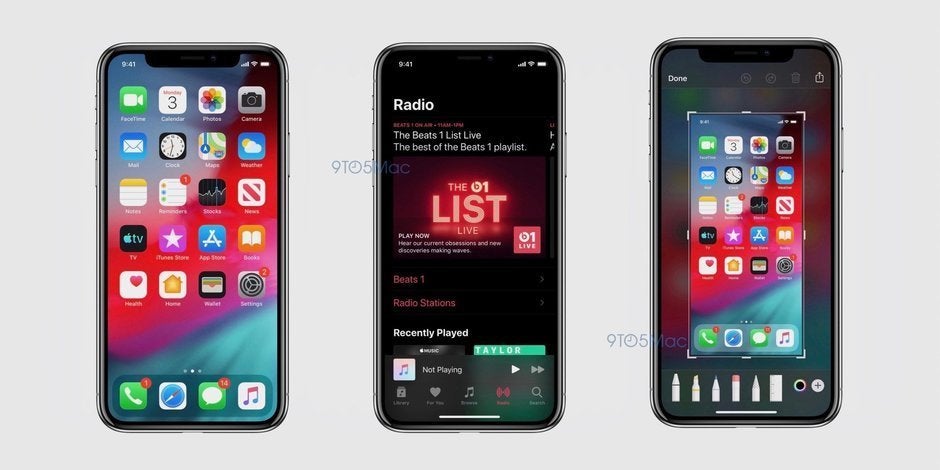 Leaked mockup shows what iOS 13' dark mode could look like
At launch, not every app will support Dark Mode natively, but Apple does appear to have prepared its own range of apps. When opening Music, for example, all colors are inverted when the feature is activated. This means that light gray is now displayed as a darker tone and pure white backgrounds are switched to black, something that could improve battery life on iPhone X and iPhone XS devices because display pixels can be turned off completely.
Leaked iOS 13 screenshots showcase Dark Mode, updated apps
Despite the rather drastic changes that come with Dark Mode, the modifications are barely noticeable on the iOS 13 home screen. In fact, the only change is the app dock which adopts a dark background rather than a light one. In any case, Apple will most likely release a range of Dark Mode-inspired wallpapers that better highlight the feature.
iOS widgets, which are housed on the leftmost homescreen, will be redesigned with a cleaner look. Finally, iOS is rumored to be scoring a new trove of animations that would make up for a fresher appearance. The new animations will pop up when closing apps or multitasking, but there could be others in store.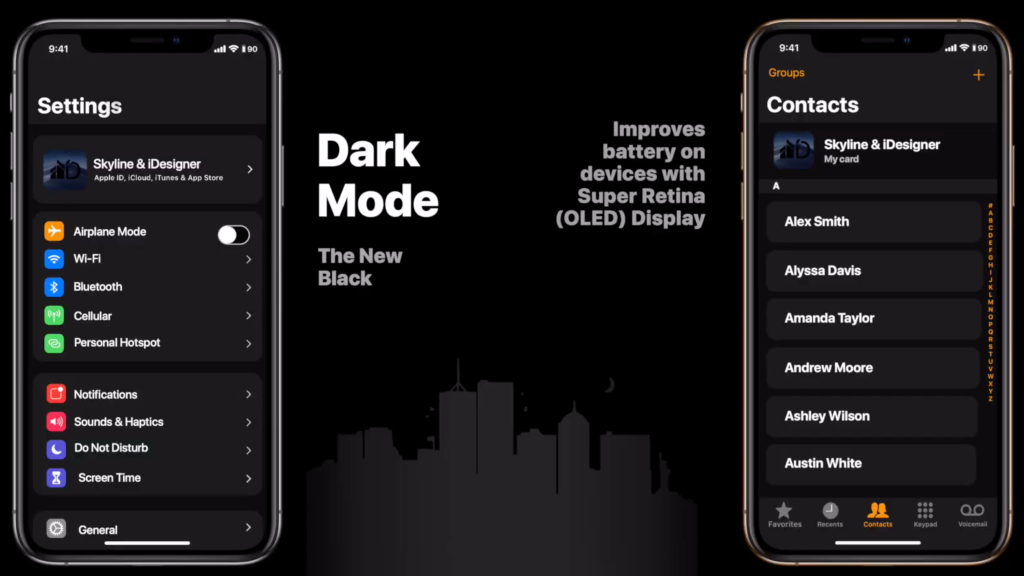 Design mockup of Dark Mode in iOS 13
iMessage, keyboard, and Apple Maps are getting a makeover
Apple seems set to reinvigorate a slew of essential iOS apps and functionalities with iOS 13. iMessage, the cornerstone of Apple's ecosystem that is considered irreplaceable by many iOS users, will be getting a tad more personal in the upcoming iOS update. Apple will allow users to set custom profile pictures and display names, as well as choose who gets to see that information. That move is most likely inspired by many other messaging apps and would allow for a more personal iMessage experience. However, we wouldn't take the changes as a sign that iMessage is poised to arrive on Android - for all we know, that's never happening.




Another noteworthy change coming to iOS is a swipable keyboard. Apple initially allowed iOS users to install swipable third-party keyboard apps with iOS 8 back in 2014, but the default iOS keyboard remained relatively unchanged. iOS 13 will reportedly introduce the ability to swipe-to-type with the stock iOS keyboard as well, which will join the standard tap-to-type.

Safari will reportedly score a dedicated Downloads tab to access all of your downloaded files, and the File app itself will be scoring works seamless support with third-party software and a new "share sheet" interface that makes sharing Safari web links and photos easier. Apple Maps will also be getting some love in the form of a new Frequent locations feature.



Upgrades to Health, Screen Time, Apple Books, more
Apple Health will be getting a user-friendly makeover that will outline daily activity on the home page. Aside from a fresher appearance, the app is also also scoring some improvements: a new Dose feature will remind you to take your medication at the designated time, while Cycles will keep track of your menstrual cycle.




ScreenTime is also getting some more powerful parental controls for Family Sharing groups, allowing parents to limit who their children can contact at certain times of the day. This is yet another empowering feature that should bring an improved peace of mind to parents.




Apple Books is rumored to be getting a rewards system that will encourage iOS users to read books by throwing bonuses at them.



iPad improvements
iOS 13 looks like it will be quite a big update for the iPads as well. A major new change will be the long-awaited support for apps running in multiple windows, which would unlock a whole new level of functionality on the tablets and allow users to use them akin to your regular laptop. Another improvement that might be coming to the iPad is actually an accessibility feature that would definitely be well-received - Bluetooth mouse support, allowing you to control the slate with your peripheral of choice.




Those two would be quite important improvements to the iPad lineup, which will finally be able to be the laptop replacement it always strived to be.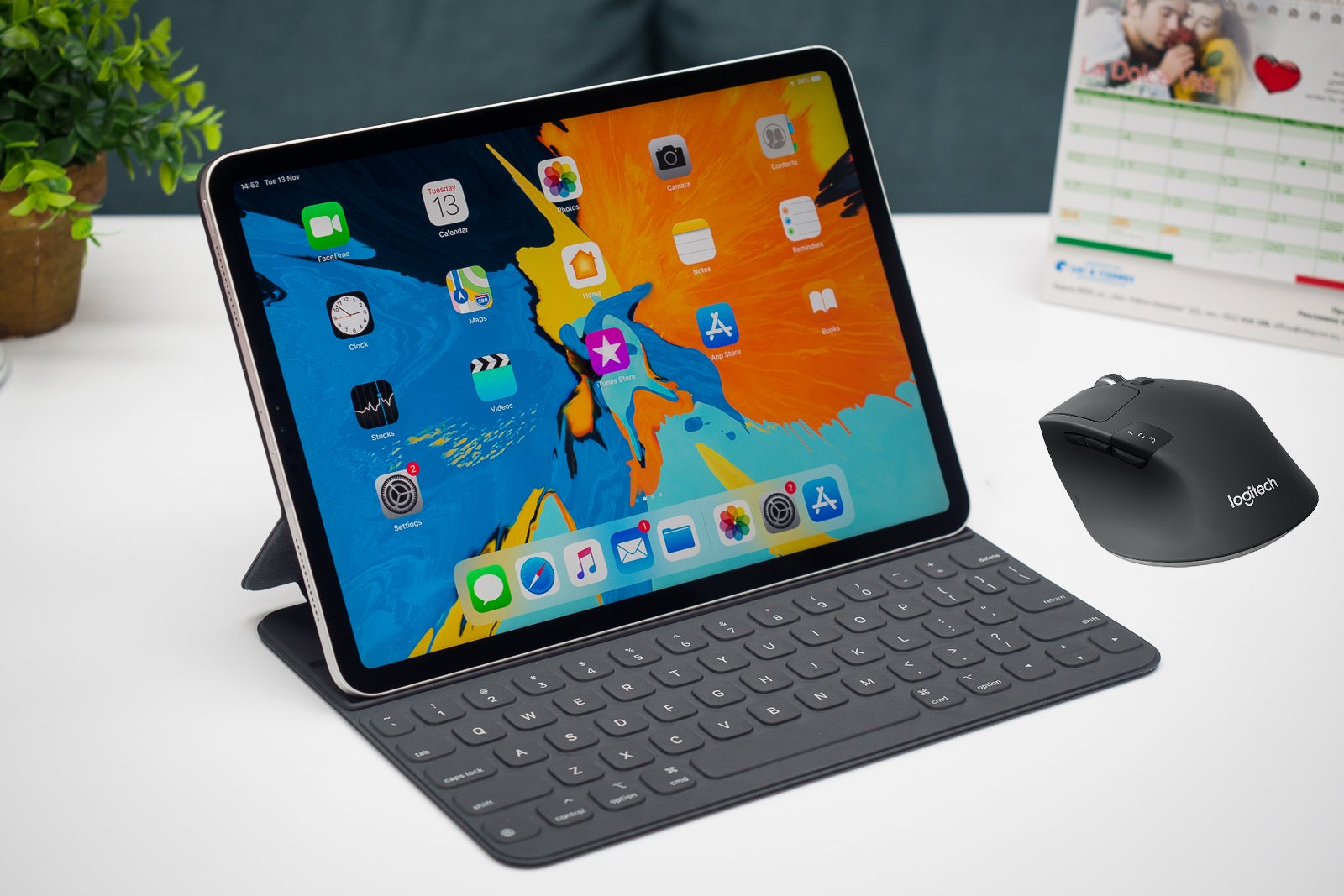 watchOS 6
The big news about watchOS 6 will likely be its own app store, decoupled from the main iOS one. This would allow future Apple Watch users to set up their devices without having to pair the wearable to an iPhone and would speed up the initial setup process. There are also rumors about a dedicated Voice Memos app on the Apple Watch, which will let you take quick voice notes on the fly.

There will also be at least a couple of new watch faces in the new version, whereas other staple watchfaces like Solar Analog
macOS 10.15

Apple's computer OS will also be getting a well-deserved time in the spotlight. One of the important new features of macOS will be its ability to run iPad Pro apps on both Mac and MacBook computers, which has been rumored for years now. Additionally, macOS is expected to score the Podcasts, Find My iPhone and Find My Friends over from iOS.

deck. Chief among them will be the ability to run iPad apps on MacBooks and Mac desktops, which is a feature that's been mentioned in numerous reports already. Apple may use WWDC to launch a new Apple Music Mac app while also bringing the Podcasts, Find My iPhone, and Find My Friends apps over from iOS.



More info on Apple's new services?
Just two months ago, Apple held an event centered around its up-and-coming big foray into media and gaming services. The beans were spilt on video-streaming newcomer Apple TV+, magazine-heavy Apple News+, and gaming-centric Apple Arcade services, all of which will command a subscription and offer exclusive content to their adopters. However, some important pieces of information pertaining to many of those services remained unknown at the time, particularly the pricing behind Apple Arcade and the exact launch date of Apple TV+. Although we are not counting on it given that WWDC is strictly a developer-heavy conference, some additional information on these services wouldn't hurt at all.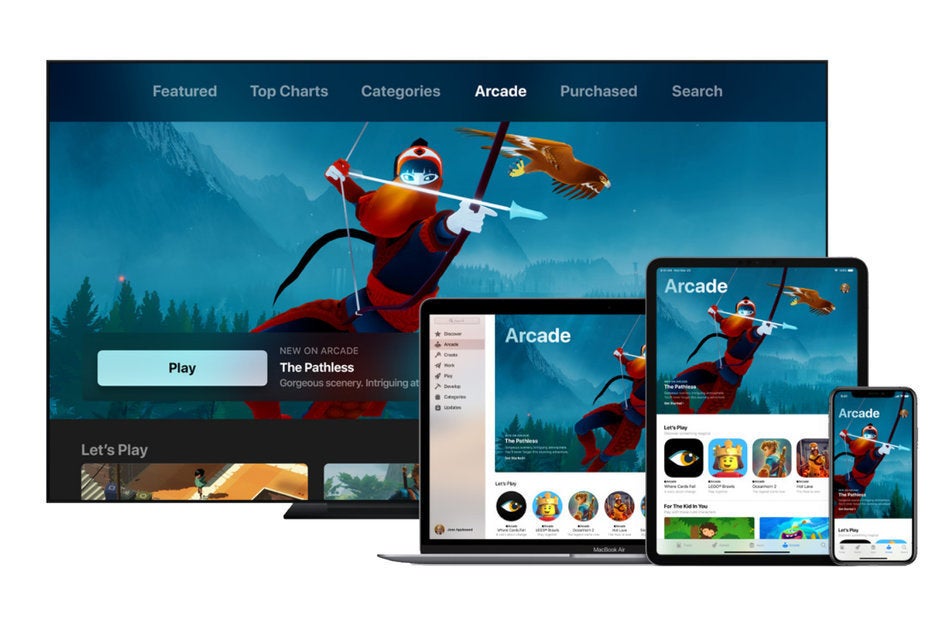 New hardware?
Whatever event Apple holds, people always expect it to announce or at least hint an upcoming device. While one can easily exercise the mental gymnastics to convince themselves that, you see,
Apple is 100% going to release the follow-up to product A or product B
, the reality of the situation is that probably no new hardware will be revealed at WWDC '19.
That said, there is a certain rumor that Apple might be prepping to announce a refreshed Mac Pro at WWDC'19, but we wouldn't hold our breath. Said high-profile computer is said to be touting a modular design and exceptional performance, aimed straight at the core Apple power-user.
However, we don't expect new iPhones, new Apple Watches, or even new iPads to be unveiled at WWDC'19. The proverbial iPhone SE2 is also not happening.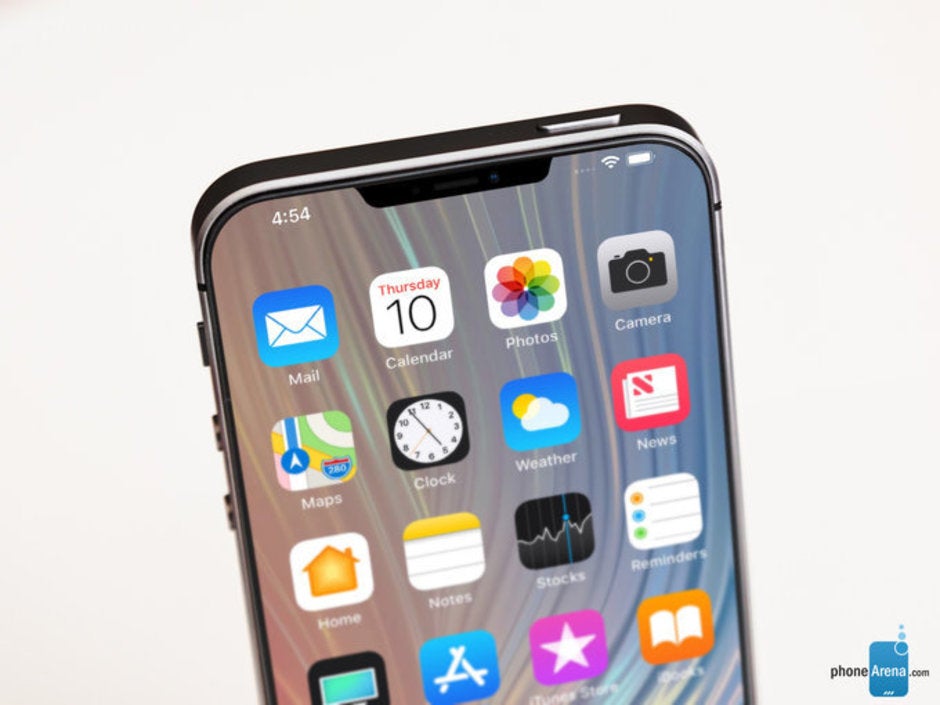 Sorry, not happening