What are your favorite apps that nobody seems to know about?
48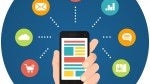 Hello, distinguished readership of PhoneArena! When our heads and hands aren't busy covering the latest developments in smartphoneland, we like to indulge in a little hobby of ours - hunt down hidden gem apps for Android and iOS.
There are so many hidden gems out there that we have some serious trouble wading through everything! So, how about you give us a hand? Tell us about your favorite "underground" apps that not many, if anyone at all seems to know about.
Use the comments section and give your own favorite apps some much needed exposure!