10 fantastic Android & iOS apps & games that no one has probably told you about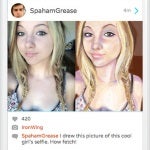 Prepare to grab your phone and don't let go of it for several hours as you go on installing these apps, some of which you probably never heard about before. They don't have the popularity of Instagram and Tinder, but they are amazing in their own way! It's just that none of your friends probably have them, or no one's told you about them yet. Better, then - be the first to clue in your friends!
Get ready to meet the likes of Spaceteam, French Girls, Horizon Camera, RunPee, FastCustomer - certainly not the basic apps you're used to seeing in app stores. The selection spans Android, iOS, and in one special instance, Windows Phone, so no matter which OS camp you belong to, you'll be getting in on the fun (in most cases, at least).
10 fantastic Android & iOS apps & games that no one has probably told you about