What are the 3 most expensive iPad apps?
8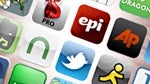 The mobile app store phenomenon has changed the way we perceive value in software. While we used to be perfectly comfortable paying $30 to $60 for a game that we might play only once, we now expect even more from software that only costs between $0.99 and $9.99.
But in case you thought that all apps were 'cheap',
The Most Expensive Journal
has laid out their list of the top 10 most expensive iPad apps. And, if you can believe it,
the top 3 all cost $999.99
. Ouch.
So here's where we try to explain their ridiculous price tags. 'BarMax CA and BarMax NY' is an app meant to prepare law school graduates for the particularly challenging bar exams of New York and California. It's a collection of 1,371 practice questions and 800 flash cards written by Harvard professors, and implemented by "top iPhone developers". We figure that, compared with expensive prep classes, $999.99 might be a good deal.
The next app is 'Intuition Control Solo WolfVision'. And this app is even more of a
niche item
. It allows you to control WolfVision's high-end overhead projectors with your iPad. If you invested in a 'high-end' projector, shouldn't this kind of app be a free piece of added value? Oh well.
And the third piece of ungodly-priced software is 'The Alchemist SMS'. And, despite the title, it has nothing to do with text messages. It is intended to provide "users in the steelmaking and scrap metal recycling industry with the tools necessary to achieve reductions in raw material cost."
So do you feel better about dropping $5 on an iOS app now? No? Well, we tried. We'll leave you with one piece of advice: never purchase apps under the influence.
source:
The Most Expensive Journal
via
PCMag
Recommended Stories