We're on Mars: top 5 Android and iOS apps about NASA, space, Mars and the Curiosity rover
8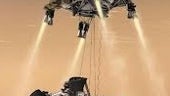 We're on Mars!
It's confirmed - the NASA Curiosity rover survived the 7 minutes of horror and with a lot of nails bitten on Earth, we can finally brag about having a car-sized rover on the Red Planet. It's an event that comes in two sides - you get really excited about the advancements of the human race, and you inevitably question how much you've contributed to that.
Truth is, getting Curiosity on Mars was an intricate job to which contributed hundreds if not thousands of people all over the chain.
One thing you wouldn't feel good about, though, is still remaining uninformed about NASA's $2.5 billion mission to Mars and the wonderous Curiosity rover that's now roaming a deep crater on another planet where it's possible that even life could have existed. That's what it's there to prove actually.
So, where do you turn for learning? Your mobile devices of course. NASA is taking good care of smartphone adopters and has a couple of apps that you can not only use to inform yourself, but also show to your friends and impress them. Check them out and use the excitement to bring the message - science is cool.
Recommended Stories