We hardly knew ye: Verizon retires the Lumia Icon seven months after launch
65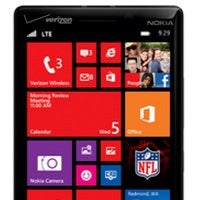 Well that didn't last long. Verizon's flagship Windows Phone, the
Lumia Icon
, has been retired barely seven months after its release. The carrier says it has stock in all areas though, so you can still buy one for the time being.
While we have no sales numbers of the Lumia Icon, the device did not register on recent statistics from AdDuplex, suggesting it was not a hot seller, either due to lack of interest, or just as likely, lack of promotion at a retail level.
That is not to say that Verizon is not an active player in the Windows Phone ecosystem in the US, but it is a distant third behind AT&T and T-Mobile, who, along with their pre-paid carriers Cricket and MetroPCS, control nearly 75% of Windows Phone market share in the United States.
It is not very often a device will get euthanized in such a short time, unless it simply is not selling. The non-aggressive on-contract pricing, and lack of promotion at a consumer level no doubt played a role in seeing store rooms retaining stock of the device. While we would like to think that the Icon's retirement sets the stage for another Lumia flagship, or a wider distribution of the Icon's international twin, the
Lumia 930
, in the US, the timing does not work.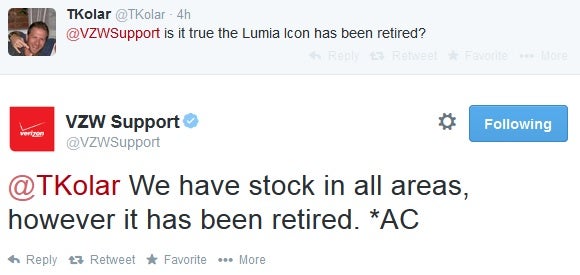 Browsing through Big Red's web site, the only Nokia we could find was the
Lumia 928
, but the carrier is still offering the
Samsung ATIV SE
,
Windows Phone 8X by HTC
, and
HTC One (M8) for Windows
. Even with that line-up, Verizon's Windows Phone offering is currently larger than that of AT&T or T-Mobile.
Given that Verizon support says the carrier has stock in "all areas, however it has been retired," we would not discourage you from picking up a new Lumia Icon if it was on your list. You can grab future operating system updates through Microsoft's developer preview program if Big Red balks at pushing updates through.
In exchange
, you get a beautiful 5-inch display, super-smooth performance thanks to its Snapdragon 800 CPU, and a superb 20-megapixel PureView camera.
UPDATE

:
For those that did not check yet, the Lumia Icon is currently still available through Microsoft, $499 retail, or $99 on a two-year contract with Verizon.
source:
@VZWSupport
via
WPCentral