Wave Alarm comes to Android, lets you snooze it with a hand flap
6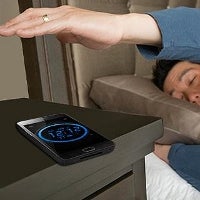 We don't know about you, but having to snooze our phone alarm in the morning is a whole... thing. You have to remember where you put the phone, then fumble to take it out of the charger, and make sure you grip it tight, as those anorexic handsets of late are a slippery crowd, then open your sleepy eyes to locate the snooze button. We've tried with some 3rd party alarm apps you see in the slideshow below that allow voice snoozing, but it doesn't always work. A chore, we tell ya.
Here comes Wave Alarm for Android to make the whole process a bit easier, after being available on iOS for a while. You can set an alarm to run in the background, and even choose one of your own music tracks on the phone to wake you up, if you don't like the default sounds.
What sets it apart, though, is the fact that you can just wave your hand above the phone, the phone's front-facing camera will detect movement, and snooze the alarm for the predetermined amount of time, or stop it altogether, if you are one of those pesky rise-and-shine types.
If you don't have a front-facer, you can just drag your fingers across the display to snooze Wave Alarm for the time being. We found a pretty decent waving distance, like a foot or even more, to be enough for silencing the alarm.