Will it bend? Apple iPhone 6s/Plus drop, water and assorted torture tests
13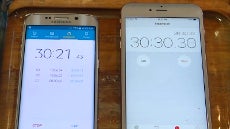 Come on in, torture lovers! Brace yourselves, the iPhone drop, stab, burn and bend tests have arrived, and no
7000-series aluminum
can save the newest Apple handset from the 15-minutes-of-fame seekers out there.
We've compiled a shortlist of
iPhone 6s
and
6s Plus
destruction efforts that prove once and for all that when glass hits the pavement, your dreams can be shattered pretty easily. Well, with the exception of the iPhone 6s falling from a story height in the Toronto Eaton Center, and remaining fairly unscathed, though the surface it fell on looks taped.
What's more, the new iPhones are seemingly much harder to bend than the old ones, though scratching and burning them is just as cruel as before. Finally, a waterboarding test against the the
Galaxy S6 edge
proves that the phones can survive a fair amount under shallow water, though it's not clear how long after that are they going to be fully operational. check out the skits below.