Watch the first Moto X promo and hands-on videos collection here: coming in August, 'always paying attention'
11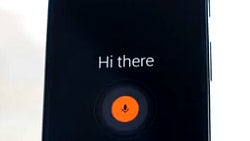 Below is a roundup of the leaked videos detailing the features of
Moto X
, including the
promo for Rogers, which we showed you already
, and was afterwards taken down. It
will be the exclusive carrier
for the handset up north. The narrator says Moto X will be hitting Canadian shelves in August, so we'd assume the same here in the US. The ad also touts the
always-on environmental awareness
of the handset that listens and answers to you all the time, not only in unlocked state.
Next in line is a CPU review using the GSM version for AT&T, that
already was leaked out
, and subsequently pulled, too. It indicates the same
Motorola X8
processor found in the new
DROID trio
, tailored specifically for the always-on functionality, and based on Qualcomm's Snapdragon line Krait cores and Adreno GPU, as the test app shows. The second vid also higlights the funky new
logo
and boot animation.
Another
hands-on video
has
emerged from Vietnam
in the meantime, giving us a tour of the design and interface, so dig into the slideshow below and tell us if you are already trembling with impatience for tomorrow's official announcement, We'll be there to report all the juicy Moto X details.