Watch the Sony Xperia Tablet Z get torn down on video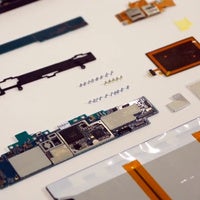 The Sony Xperia Tablet Z teardown begins with cracking the device open. Sounds easy? Well, think again. Since the tablet is resistant to dust and water damage, it comes as no surprise that taking its back cover off isn't a job for everyone. Once that's unglued, the delicate part dismantling process begins, starting with the Sony-made lithium-ion battery weighing 130 grams and then moving on to the smaller components. There's plenty of glue and tape holding the Xperia Tablet Z together, which leads us to believe that its repairability score might not be very high.
A summary of the Sony Xperia Tablet Z disassembling is embedded below so feel free to watch it for further details.