Watch the Lumia 930 get organically charged by apples and potatoes
15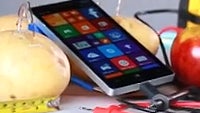 To mark the bundle release of Lumia 930 with free wireless charger in the UK, Microsoft tasked the artist Caleb Charland with creating the biggest organic charger in the form of an outdoor installation. More than 800 apples and potatoes went to create the amperage necessary for juicing a
Lumia 930
via its wireless pad.
The installation is a giant wall of sorts, with hundreds of those food staples pinned to it, creating sufficient electric current to pump through Nokia's
Qi wireless charging
plate, and top off the Windows Phone flagship. A pretty ingenious publicity stunt that has surely made people talk about the Lumia 930 and its wireless charging abilities with relatively minor investment, especially if the huge organic charger became french fries and apple pie afterwards.