Watch Nokia borrow Apple's rhetoric for the N9 announcement: it feels "supernatural"
61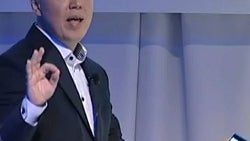 The
Nokia N9
was announced in the early hours on June 21st, but in the couple of days after Espoo lifted the curtain over its first MeeGo device, it has only confused us as it seemed surprisingly good. Too good to be
the first and last of the MeeGo mohicans
. To help us get even further confused, Nokia posted the full video of the announcement where Nokia's Marko Ahtisaari, SVP Design and User Experience, presents the enchanting device highlighting its functionality.
You already know most of the facts about the N9 – a 1GHz TI OMAP3630 CPU matched with the PowerVRSGX530 GPU, a 3.9-inch WVGA AMOLED screen. But it's not the hardware that matters with this device. Actually, designer Anton Fahlgren mentions:
"What's important for us is that if this becomes a hardware story, we've failed. It needs to be in context with the UI."
And that's what the video below demonstrates. Smooth navigation and intuitive, swipe-dominated navigation on a beautifully colorful device. It almost feels like an Apple presentation – one focusing more on functions and innovation than on anything else. To cement that feeling Ahtisaari concluded the event:
"So there it is, the Nokia N9. A design for a better way to use a phone. I urge you to try it here in Singapore and I trust that you see how natural, how even supernatural it feels."