Watch Joe Rogan go all bow and arrow on the iPhone 6 sapphire display
21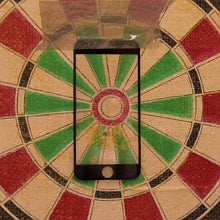 It's been a weird iPhone leaks season so far. We've never had so many claimed dummies, prototypes, display panels, and other assorted parts of the alleged iPhone 6 bandied about. They've been shot from every angle, sized up with the other players in the iPhone and even Android portfolio, and even
destroyed for our viewing pleasure
.
Either Apple doesn't care that much about leaks anymore, or they can't prevent opening the floodgates that starts from the drawing boards and assembly lines now. Alternatively, the iPhone 6 might turn out to be radically different than what we've seen so far, which would be the ideal scenario, as we have the feeling we've already seen it all.
What we haven't seen, though, and never even imagined we will, is Joe Rogan... shooting... at an iPhone 6 glass panel... with an arrow. Before you tell us that this is impossible, just hit play on the video below. What we have here, is one of the alleged iPhone 6 front panels, outfitted with the
rumored durable sapphire glass cover
, waiting to be pierced (or not) by Joe Rogan's bow. Will the tough sapphire glass manage to resist the damage that Joe tries to inflict on it? Check it out.