Kyocera tests sapphire against resistant glass on video, things look promising
8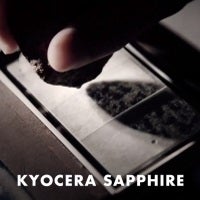 A leaked testing video by Kyocera shows the Japanese electronics maker is deep into the development of sapphire crystal-covered smartphone displays. The company is known for its rugged smartphones, thus the technology for durable displays, which is being
researched by Apple
as well, could be the next milestone in its product evolution.
The video in question shows Kyocera testing sapphire crystal display coverings sized for smartphone screens against traditional resistant glass. As expected, sapphire pretty much obliterates the traditional panels in shock-testing, emerging unscathed from a round of heavy scratching followed by an impact test. Sapphire is known as the second hardest material in the world after diamond, it's extremely hard to scratch, and is rated as three times stronger than Gorilla Glass. It could pave the way for near-indestructible smartphone displays in the near future, which sounds like an exciting proposition.
At this point, it isn't clear whether Kyocera plans to become a sapphire manufacturer, or is sourcing sapphire coverings for its own smartphones.