Want to see how thick a phone with 10 000 mAh battery will be? Check out this Oukitel dummy
32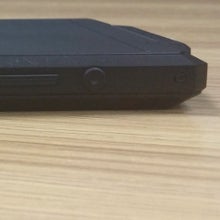 We've
mentioned the Oukitel brand before
, as one of those typical Chinese value-for-money propositions with its U9 handset - blessed with a 1080p screen, octa-core chipset, 3 GB of RAM, and other top-shelf virtues, it sells for about $200 only.
Now, Oukitel says it is prepping to outdo everyone else in the battery life arena (including Lenovo's signature three-day battery phones with 4000 mAh units) by outing a phone with the jaw-dropping 10,000 mAh juicer. "How thick would that thing be?" was our immediate reaction, but the folks from Oukitel didn't leave us guessing, and sent us some chassis prototype mould pics, where we can see the eventual girth.
Truth be told, we expected a phone outfitted with a gigantic battery capacity like this to be thicker than what you see in these pictures. It's actually not that bad, considering that this new Oukitel, which they say is due a few months from now, will probably be able to last you a week on a charge with normal usage. What do you think - fat or not?