Walmart slashes 16GB iPhone 4S price to $148 at some stores
7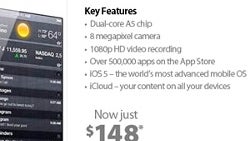 Walmart is now also
slashing the price on the 16GB iPhone 4S for AT&T, Verizon and Sprint down to $148
on a two-year contract. The $40 price cut comes just as many other - retailers and carriers - are dropping prices on the iPhone 4S in anticipation for the new iPhone. Should you buy it, though? The answer is a resounding no, unless you just can't wait for another month.
The new iPhone is expected to end up on shelves on September 21st (in actually less than a month) and it is said to be the biggest upgrade the iPhone series has ever seen. So far, we've heard rumors about a bigger, 4-inch screen, 4G LTE support, a faster chip and finally, a brand new design.
You might be tempted to get an iPhone 4S as those deals seem pretty good, but you should also consider you're signing a two-year contract with it. And in just a month, Apple is expected to slash the price on it even more - down to $99 on contract. With so many amazing new gadgets coming in just a couple of weeks, we would really wait. Also, check out this list of all the devices that might
look like a great deal, but that you shouldn't buy right now
.
source: Walmart via
9to5Mac

Recommended Stories