Wall Street firm says iPhone buyers willing to pay up for more "cool" features
67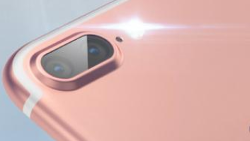 U.S. securities house Cowen & Co. says that Apple iPhone buyers are willing to pay more for a larger sized screen, a dual-camera setup and other features. Compared to the
Apple iPhone 7
, the
iPhone 7 Plus
has a larger 5.5-inch screen, two cameras on back, additional RAM and a larger battery. At $769 and up, it also sports a larger base price than the $649 starting price of the iPhone 7.
Cowen estimates that the phablet-sized iPhone 7 Plus accounted for 40% of Apple's fiscal first quarter sales of 58.5 million iPhone 7/iPhone 7 Plus units. Last year during the same exact quarter, the
Apple iPhone 6s Plus
made up only 23% of total iPhone sales. According to Swiss banking giant UBS, the larger percentage of phablet sales should allow Apple to report a higher average sales price of $693 for the iPhone during the fiscal first quarter.
Wall Street analysts expect overall iPhone sales to have risen 4% year-over-year to 78 million units for the three months that ended in December. This would be the first time that such sales for the holiday quarter following a new model launch (as opposed to an "S" series release), didn't increase at a double-digit pace. Sales of the
Apple iPhone 6
increased 46% year-over-year during the 2014 holiday quarter, and 29% for the
Apple iPhone 5
two years before that.
For Apple, it is important that Cowan is right about the strong demand for its more feature-rich phone. That is because the rumored premium
Apple iPhone 8
model is expected to be released this coming September. That device could feature a 5.5-inch OLED display that covers the entire front of the phone. The Touch ID button will reportedly be embedded under the glass.
"The iPhone base wants a new, cooler iPhone. There's a lot of pent-up demand for a product with newer, cooler features"-Tim Arcuri, analyst, Cowen
Apple will be releasing its fiscal first quarter earnings report on Tuesday, following the close of the stock market.
source:
WSJ
Recommended Stories