WWDC sells out in under two hours
21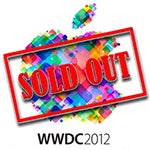 We all of you early risers got your WWDC tickets, as they've already sold out. We
warned you this morning
that these would be hot items, and it turns out that ticket sales were done in just under two hours from when they went on sale. That is significantly faster than
last year's WWDC
, which took a not-so-long 10 hours to completely sell out. Part of the difference may be that this year there is a growing expectation that a completely redesigned iPhone
will make an appearance
.
Of course what would a developer conference sell-out be without some sort of red meat for Apple and Android fans? With apologies to the trolls out there, there just isn't a meaningful way to compare the two this time around. Google's I/O conference did
sell out in less time
(just under half an hour), but WWDC tickets cost almost twice as much ($1600 vs $900). Apple's conference also lasts several days longer than I/O.
Also unreported is how many tickets went on sale – if one of the conferences sold dramatically more tickets that would need to be taken into account before trying to assert you bragging rights. So in the end, let's be satisfied with the fact that both developer conferences have legions of devoted attendees, and that neither Apple nor Google is pining away for more people to show an interest in developing for their platforms.
One thing that will make for an interesting comparison this year is that Google changed the timing of I/O to summer, so their conference will now follow WWDC by a scant two weeks. Surely that will bring up another round of "who won" topics for fans to mull over…
source:
iMore