WSJ also chimes in that Apple suppliers got their iPad Mini marching orders for September
20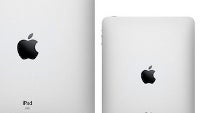 When there's smoke, there is fire - after everybody, from
Chinese blogs
to
Bloomberg
, reporting that Apple is prepping to launch a smaller tablet in the fall, now the venerable Wall Street Journal confirms through its own supply chain sources the same thing.
With Microsoft unveiling its own
Surface line of tablets
, and Google coming up with the cheapo
Nexus 7
, and the
rumored Nexus 10
, the competition's efforts might have tipped the scales for Cupertino, and it has allegedly given the green light for the iPad Mini to see the light of day.
The WSJ doesn't report how much it will cost, only that the screen size will be less than 8", which jibes with the 7.85" screen rumor we heard yesterday, so the $249-$299 price range might materialize as correct too. The publication says that LG and AUO have grabbed the screen orders, whereas yesterday we heard it will be
Sharp's IGZO technology with the lion's share of the production
, but in the end it might be a mixture of those, ensuring enough yield for the undoubtedly huge demand a cheaper iPad will create, and cutting off Samsung from the screen supply chain.