Voicemail-to-text, spam calls detection, new API for third-party VoIP apps coming to iOS 10
4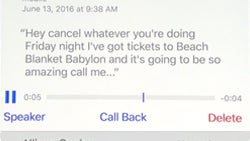 Voicemail transcriptions and spam calls detection are coming to iOS 10, Apple's senior vice president of Software Engineering Craig Federighi announced at WWDC 16 yesterday.
The voice-to-text feature aims to convert voicemail to short texts, which can then be displayed as regular notifications. It's nothing major, but it might at least provide a less annoying and quicker way of going over voicemail messages.
Spam detection is mainly aimed at the Chinese market, where targeted spam calls are abundant, Federighi said. The new system supports an extension API which allows for third parties, such as telecommunication companies, to provide automatic information about possible incoming spam calls.
Meanwhile, a new VoIP API will allow for third-party messaging apps to be integrated within the Phone app and display calls on the iOS 10 lockscreen. The calls will be displayed in full screen mode and you'll be able to answer them just as you would a normal call, without the need to unlock the device.