Verizon's Visible now offers uncapped data at no extra cost, but only for a limited time
5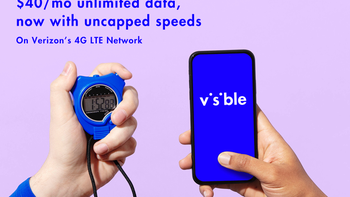 Since day one, Visible – Verizon's prepaid service – has offered unlimited talk, text, and data for $40 per month. The offer is an attractive one but most certainly isn't for everyone due to the 5Mbps speed cap that is imposed. But now, as part of a limited time offer, that all changes.
Starting today, existing Visible customers can access the unlimited data they have become accustomed to without any kind of speed cap. The substantial upgrade comes at no additional cost and will continue to be available to members for as long as they stay with Visible. Also, as you'd expect, unlimited talk and text are still part of the package.
The changes announced today are part of the preparation for a "bigger program" that Visible will be launching later this year. The carrier hopes to gather data about the needs of its current members during this period but is also open to recruiting new customers. Because of this, the uncapped data offer is also available to new customers.
Visible hasn't yet determined when the promotion will end but if you're interested in joining the carrier you may want to hurry. After all, much like existing customers, anybody that signs up before the offer ends will benefit from high-speed data on Verizon's 4G LTE network for as long as they are a customer. Those who sign up after, on the other hand, will have to settle for Visible's usual 5Mbps speeds.
In order to access the uncapped data, existing Visible members simply need to restart their smartphones. New customers, on the other hand, will benefit from the upgrade as soon as they join. Speaking of which, Visible currently requires an iPhone 6 or newer; Samsung Galaxy S9 or S9+; or Google Pixel 3 or Pixel 3 XL. Over the course of the "coming weeks," though, compatibility will be expanded to include the Moto G7 Power and Pixel 3a series. As an alternative option, you can send Visible an incompatible Android phone and receive a ZTE-made Visible R2 valued at $99 for free.