Violinist gets interrupted by Nokia ringtone, gives it right back
16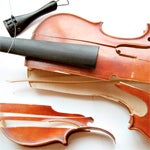 It is pretty hard to go anywhere these days without hearing the familiar sound of a stock ringtone from someone else's phone, even in situations where most people have the decency to switch to silent mode.
As we saw earlier this month at the New York Philharmonic performance
, some performers find an unwelcomed cell phone ring so infringing, that they must halt the entire performance.
When Lukáš Kmit was faced with a similar situation while playing his violin in Slovakia, he responded in a completely different manner. As you can see in the video below, he quickly regains his composure and plays back the famous Nokia tune, delighting the audience instead of letting the interruption spoil the performance.
We have to say, well played sir!
source:
Mashable