New York Philharmonic performance interrupted by ringing Apple iPhone
31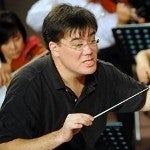 Tickets to see the prestigious
New York Philharmonic
don't come cheaply. For that kind of money, audiences expect to hear pieces like Gustav Mahler's ninth symphony, not the
ring tone from an Apple iPhone
. But that is what a jeering audience was subjected to last Tuesday at New York's Avery Fisher Hall. Philharmonic conductor Alan Gilbert was leading the Philharmonic during the last movement of Mahler's ninth symphony when a familiar but intrusive sound startled the 2,750 in attendance, like that screeching noise made by a piece of chalk on a blackboard. It was a ring tone from an Apple iPhone which kept ringing and ringing and ringing.
Gilbert turned to face the audience, which by now was calling for the head of the iPhone owner, and said, "
Ladies and gentlemen, I apologize
, " and asked the phone's owner if the ringing was done. The Philharmonic then finished the piece, which itself
runs for 82 minutes
. Philharmonic spokesman Eric Latzky commented on the conduct of conductor Gilbert by saying, "
Alan's main concern was for the audience. And to have this most beautiful, and this most delicate, symphony stopped by an iPhone at its most vulnerable moment — [that] was what Alan was really concerned about, for the other 2,750 people in the hall
." The conductor received a standing ovation when he was done.
source:
NYPost
,
CNN