ViewSonic ViewPad 10pi hands-on
2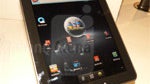 Oh ViewSonic, the name is
seared deeply within our minds
because of the very affordable nature of its products, though, they're nowhere close to supplanting any big named devices out there in the market. We've had the opportunity to review one of its
dual-boot tablets in the past
, but this time around at CES, the veteran display maker is looking to further define its roster with the recent announcement of the
ViewSonic ViewPad 10pi
– a 10.1" tablet that offers both Windows 7 and Android 2.3 Gingerbread.
Considering it's able to run Microsoft's full sized computing platform in Windows 7, its design is a bit on the
hefty
side and barely one that's attempting to break the thinness record. In fact, the ViewPad 10pi takes the safe approach of offering a very
predictable design
that's a bit heavy on the conventional side – while packing some
weightiness
to give us a good workout by simply holding it. Obviously, there are quite a few buttons and ports adorning its sides, but the placement of its Android buttons (home, back, and menu) are a teeny bit confusing since they're not placed in typical spots that we're normally accustomed to seeing them in.
When it's running Window 7, its
1.5GHz Intel Oak Trail Z670 processor
is capable of delivering a very enjoyable experience, but when it comes to Android, we're simply at a loss of words. Even now, we'll take that it's running Gingerbread, but in order to catch it running Google's mobile platform, you'll need to enable it – giving us a good indication that it's not going to be pretty. Frankly, our fears are confirmed as the tablet is littered with some
annoying bugs and glitches
to make it hardly stable.
Honestly, you might probably be scared from checking this one out because it's not a "
with Google
" device. Yes, some might essentially stick with the Windows experience, but luckily, it has the
Amazon Appstore
to give us a reasonable selection of third party apps. So what do we have so far with the ViewPad 10pi? Well, it has a boring and cumbersome design, which doesn't hide the fact that its Gingerbread experience is a nightmare to behold right now – so yeah, it'd be best to hold off for right now until the bugs and issues are fixed.
Well, if you're going to stick with Windows, it shouldn't be terrible at all – albeit, dropping down $849 for this dual-boot tablet might tempt some people enough to pick it up.