ViewSonic ViewPad 10 Review
2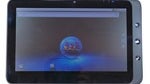 Introduction:
ViewSonic is still trying to get some traction in the tablet space with their Android 2.2 Froyo powered ViewPad 7, but the manufacturer renowned for producing displays is pushing ahead with their latest creation – the
ViewPad 10
. Now this isn't simply just a rehash of the
ViewPad 7
with a larger display, oh no, but rather, it's able to differentiate itself from most things out there since it's dubbed as the "world's first" dual-boot Windows 7 and Android tablet. Considering its plentiful productivity aspects, the $599 starting cost of the ViewSonic ViewPad 10 just might seem attractive enough to stand out with most things.
The package contains:
ViewSonic ViewPad 10
Wall Charger
Windows 7 Recovery DVD
Android Recovery DVD
Design:
Even though the ViewPad 7 was neither galvanizing or mundane in design, the ViewPad 10 is just one stale looking tablet. Honestly, it's by no means slim (0.65" thick) in any way, especially when you factor in its netbook like components, but its monotonous and straightforward design approach doesn't contribute in its cause in being original. Of course, the cheap black plastic and somewhat fake feeling aluminum rear cover supplements to its overall tasteless embodiment, but we're not digging its sheer chunky size over other comparably sized Android tablets. Furthermore, its straight angled bezel doesn't particularly sit too well in making it ergonomic – especially when we feel its sharp edges pressing against our palms as we hold it.

For a manufacturer known amongst the industry in expertly crafting wonderful looking monitors and displays, we're rather dismayed in finding a low caliber one utilized by the ViewPad 10. Sizing up with a
10.1" LCD
capacitive screen with LED backlighting, it's more than plentiful in real estate, but its resolution of 600 x 1024 pixels blatantly uncovers its pixelated appearance. Horrifically, you easily lose focus of what's on-screen since its ridiculously poor
viewing angles
distort colors when you slightly move it away from a 90 degree angle. Moreover, its overall color production is distinctively on the dull side – which makes you really wonder how ViewSonic is even able to accept its display as tolerable.
Strangely, the ViewPad 10 only employs a front-facing
1.3-megapixel
camera – which is mainly designated for video chat and self-portraits. Again, it makes you think hard and wonder why they decided to omit a rear one.
Rarely seen being used nowadays by most Android devices, it's a breath of fresh air to see recessed physical buttons on the ViewPad 10 – which are placed towards the right edge. As much as we accept their tactile response, we're completely at a loss of words when it comes down to the confusing button assignment in Android. First and foremost, the dedicated power button doesn't turn off the display in Android when pressed, it only will ask if you want to reboot or turn off the tablet completely – and to make matters worse, there is no way to turn off the display whatsoever in Android. Secondly, the home button will only get you back to the homescreen if you execute a long press with it, while pressing on it quickly emulates the "back" function. And as for the back button itself, it acts as the menu button in Android. Confused yet? Well, we know we're utterly perplexed with ViewSonic's decision with its layout.
On the left
side of the tablet, there are a ton of connectivity ports that sharpen its capacity – like 2 USB 2.0 ports, 3.5mm headset jack, microphone, mini VGA port, microSD card slot, and proprietary power jack.
Turning it over to
its back
, we find notches for its two speakers that are placed closely to the left edge, while vents placed in opposite areas around the bezel provide a sufficient dispersion of heat for the tablet. However, there is still a noticeable amount of heat emanating from the backside of the tablet after using it for 30 minutes.