Videos show off Nokia Camera Extension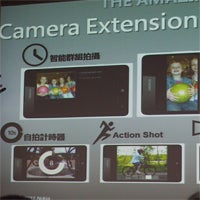 The folks over at WeloveWP.hk conducted a few demos of the Nokia Camera Extension app to show off some of its features. Rather than add an entirely separate app, Nokia Camera Extension adds additional features to the regular Camera Settings menu.
The app adds 4 features, which are Smart Group Shot, Action Shot, Panorama, and Timer. The Action Shot setting takes 8 quick photos, while the Timer feature is just a standard self-timer. The Panorama feature takes 5 pictures and merges them into a single panoramic shot. The first video shows this feature in action. As you can see, while it take a few seconds to process, the resulting image is stitched together very well.
While this isn't the first time we've seen something like this thanks to
BlackBerry's BB10 demo
, the Smart Group Shot feature is probably the coolest in the bunch. It takes 5 photos, identifies each face in the picture, and then allows the user to swap the faces out to create the perfect, or most horrific depending on how much you hate the people in the picture, photo possible.