Video shows off mapping and search capabilities of Apple's iOS in the Car on a simulator
12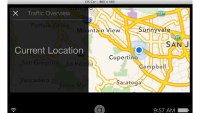 A video taken by an iOS developer, appears to show the mapping and search functions of iOS in the Car, running on a simulator. The mapping application reveals a different UI made for the automobile version of iOS, and gives out turn-by-turn directions. Developer Steven Troughton-Smith made the video, which shows off the search prompt for iOS in the Car with voice-activated requests for "1 Infinite Loop", "Ice Cream" and "San Francisco".
Displaying the integration between the iPhone and iOS in the Car, Troughton-Smith then seeks directions to the Moscone Center on his handset and watches it appear on both the screen on the iPhone, and the 800 x 480 virtual display of the simulator. The developer notes that the feature is available in the shipping version of iOS 7.0.3, but it takes a lot of work to find it. Apple is expected to unveil iOS in the Car when it launches iOS 7.1,
which is currently on its fourth beta version
and could be rolled out in March.
It is unknown whether a virtual QWERTY would be included on the version of Apple's mobile OS made for the automobile. From this short video, it would seem that voice might be used instead as the sole input. Of course, the simulator is limited in its scope and the UI can always change before the final version is unveiled.
source:
StevenTroughton-Smith
via
AppleInsider