Video shows how Nokia Lumia 620 can handle loud noises while capturing video
12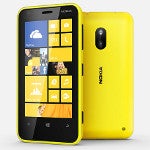 The
Nokia Lumia 620
is not the top-shelf Nokia Lumia model. Heck, it wouldn't even qualify for runner-up. But that does not mean that there are no redeeming qualities to the device. Take the microphones on the camera. Even under loud noise conditions, the phone captures video with good,
quality
sound. And this seems to be the case with most of the microphones on the Lumia series
The video below shows how the music sounds
tinnier
on Competitor 1's phone and on Competitor 2's phone, it sounds like a truck trying to back out of a mud hole! The volume was matched on all three devices so that this can be a fair comparison. In the end, you're paying for the phone so you will have to decide how important recording loud noises is when deciding which smartphone to buy. It's not an unreasonable demand to want a smartphone that captures video with good quality sound at high volumes. After all, some people decide which phone to buy based on celebrity endorsements ("
Charles Barkley said to buy this model
") or the box that the phone comes in.
source:
Nokia
via
WPCentral