Video shows Nexus One with Flash 10.1 beta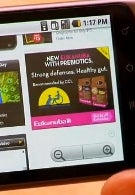 Owners of the Motorola DROID have been expecting an upgrade to the browser that would include Flash 10.1 (and perhaps adding multi-touch to the browser ala the Milestone with its' pinch to zoom?). The upgrade is supposed to take place in the first half of 2010, something that even the Adobe placeholders will show you when you try to do something that requires Flash on the DROID. To give you an idea of what Flash will look like on Android, a video of the Nexus One has been made with Flash 10.1 beta in place; you will see the Superphone in action during the playing of a video game. In a shot at Apple, the browser then heads to the National Geographic site where Apple had taken mobile Safari when the 3G was introduced to show the speed of the browser. Not having Flash, a block above the center of the site never worked during the iPhone's presentation. With Flash 10.1 enabled, the N-One shows all of those iPhone users what they were missing by not having Flash. And that brings us to another example, an ad for dog food. Finally, some video from National Geographic is played using Flash and we are told that 80% of video on the web is delivered via Adobe's software.
Now it is simply a waiting game. Again, DROID owners have been expecting an upgrade by the end of June. But now with the N-One having been introduced and launched, we might see this capability added months earlier than expected.
HTC Nexus One Specifications
Motorola DROID Specifications
|
Review
source:
Engadget