Video of iPhone Lightning to 3.5mm headphone adapter leaks
36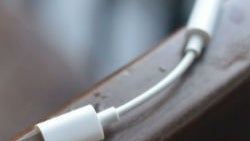 At this point, there have been enough rumors about this year's iPhone dropping its 3.5mm headphone jack in favor of either Lightning-connected headphones or wireless headphones that it is most likely true. Now we're getting the best look yet at what could be an official Apple Lightning to 3.5mm headphone jack adapter for the iPhone.
The video comes from Vietnam, which is not a common source for a leak like this, but the leaker claims the adapter comes directly from a Foxconn affiliate, and Foxconn is a company that has deep ties with Apple. The adapter itself looks simple enough and what you might expect. In fact, it looks quite a bit like the adapter that comes in the box with the new Moto Z, except in the usual Appe white and obviously with a Lightning plug rather than USB-C.
Interestingly, the leaker shows that the adapter will only work with iOS devices that are running iOS 10 and not older versions of the platform. It's not terribly surprising that Apple would require a software unlock to get an accessory working, but it's not something we had considered before.
Whether or not this is the real deal, it seems inevitable at this point that this year's iPhone will not include a 3.5mm headphone jack. That said, we still hold out hope that Apple will include this adapter in the box. We'll have to wait and see though.