Video of Oppo's futuristic phone with no side bezels shows the device in action
10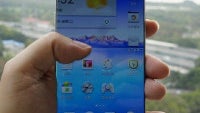 A duo of curious photos cropped up yesterday
, giving us a glimpse of an Oppo-branded phone that featured virtually no side bezels. This would have been doubly surprising, even somewhat suspicious, were it not for the fact that Oppo was found having filed a patent application back in December 2014 that would allow the maker to do exactly that – bezel-less phones.
As if to prove that there's no foul play here and that is indeed an early prototype of Oppo's new phone concept, the source of the images appears to have gone the extra mile, and has also shot a video whilst playing with it, showing it is operational. The video is hosted in China, so the below clip might take a little longer to load than you're used to.
In any case, Oppo isn't only one pushing the envelope in this particular niche.
Just the other day
, a trio of images outlining a new LeTV smartphone caught our attention. Like Oppo's gadget, the LeTV phone (seen below) also touted near zero bezels at the sides and an overall appealing design.