Captivating images of a bezel-less Oppo phone crop up
21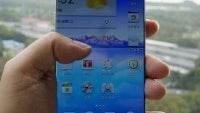 Last Friday, we brought your attention to
a phone with virtually no side bezels by Chinese LeTV
, but if you thought that the device in question will be left without company, then you should think again. A major player on the Chinese smartphone market, Oppo was recently awarded a patent outlining how it would go about creating a smartphone displays with essentially zero bezel on the sides. Almost immediately, a duo of images surfaced in China, supposedly giving us a first glimpse of the actual device based on that patent, and it looks just as captivating.
According to the source of the images, the screen we're seeing is a 5.5-inch unit, but beyond that, little else is known about the mysterious device at this point. It is important to note that the aforementioned patent filing describes Oppo using special tech to diffract light at the very end of the display's physical body in order to create the illusion that no/little bezel is present. Obviously, there's still one holding things in place, it's just extremely slim. You can see the effect this creates in the images below.
It's way too early to draw any conclusions, but one thing seems almost certain at this point – bezel-free smartphones are now well on their way to market reality.