The bezelless smartphone by LeTV looks beautiful and impractical
51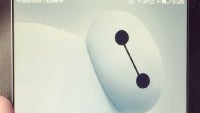 We've seen our share of smartphones dealing away with the last millimeter of any unnecessary materials and compounds surrounding their screens. You still remember the
Sharp AQUOS Crystal
, no? But that daring invention didn't resemble a handset as much as it looked like a TV with a smartphone form factor. Unlike the Crystal, the bezeless LeTV retains a familiar shape, but it completely eliminates the side screen bezels. It's what the
LG G2
would have looked like if LG had went all the way to the end back in 2013.
Pretty as it is, a truly bezelless smartphone doesn't seem very practical for reasons we've already discussed - drop it on its side, and the screen may go bye-bye! Grasp it with a tighter clench, and your palm goes right over the display, covering it and smudging it with fingerprints. But if you absolutely hate screen bezels, the LeTV is your kind of smartphone. It has nice specs and looks, too! Available sometime in April, it will have a 5.5-inch 1080p screen, an octa-core 2.2GHz processor, 2GB of RAM, 16GB of storage, a 13MP main camera, a 5MP front snapper, and dual-SIM slots. Most interesting, it will also feature an USB Type C connection port, which some of you may know from the new Apple MacBook. This makes it a first for an Android smartphone.
The LeTV definitely caughy our attention and we'll be on the lookout for more news around it. By the way, LeTV is something of a Chinese Amazon, but not in the capacity of a retailer. LeTV owns one of China's top video streaming websites and ventures into online entertainment, television production, smart terminals, and e-commerce. Or in other words, it's developing affordable devices that sell its services to the hungry masses. This suggests the bezeless phone will be sold cheaply, but puts international availability in question.
via
GizmoChina