Video: hands-on with alleged iPhone 8 dummy makes us crave the real thing
70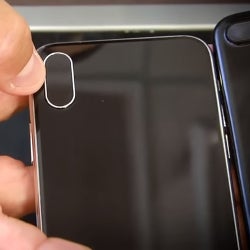 The
iPhone 8
is getting leaked a lot recently and rightly so — it's shaping up to be the hottest phone to be announced in the second half of this year. Well, we could say the same about the
Galaxy Note 8
, but we'd have to avoid that exact adjective.
Enough going on tangents. We can't expect all of the rumors about the next Apple flagship to be true, but there are a lot of sources reaffirming each other's leaks. Everyone agrees that the "premium edition" iPhone that's going to be unveiled this September will have super-thin bezels, a very compact body for its 5.15-inch display, and a dual camera module in a vertical setup.
Now, we've seen renders, cases, and some crude dummy units leak in pictures below. But tech journalist Shai Mizrachi has actually recorded a video with a pretty nice dummy unit, which is allegedly modelled after the real thing (meaning – the
iPhone 8
, as it's going to appear when launched).
Mr. Mizrachi has leaked some information about the
iPhone 7
,
LG G6
,
LG G5
in the past and his sources have been more or less on point. So, we would say that there's a huge chance this dummy is legitimate.
The phone looks really, really sleek with the rumored glass sandwich design reaffirmed. It is said that Apple is finally adopting
wireless charging
, which is why the iPhone 8 will need a glass panel on its back — the feature can't work with bare aluminum. There is no fingerprint scanner on the back — thankfully — refuting earlier rumors that there might be one just below the Apple logo. The dual camera module is wider, but protrudes less than the one on the
iPhone 7 Plus
. We'll see if that's how it turns out on the actual iPhone 8.