Video: Here's the Firefox OS-based $25 smartphone
11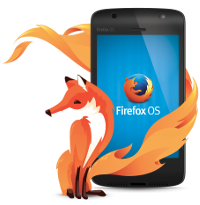 How low can the price of a smartphone go? As we've seen time and time again, no definitive answer can be given, but we're getting pretty close to the very bottom.
A few days ago
, we covered a deal that Mozilla Corp. made a deal with Chinese chip maker Spreadtrum to supply the chipsets for a phone that will cost a measly $25! You read that right, the subsidiary of the non-profit Mozilla Foundation will charge you just $25 for a device that covers the basics of what we call a smartphone today. The folks over at Bloomberg managed to get some hands-on time with the device during MWC 2014, and we couldn't, in good conscience, let you miss out on this small miracle.
In case you're curious, those $25 get you a 3.5-inch, 320x480 pixel resolution screen, Wi-Fi, Bluetooth, FM Radio and a 2-megapixel camera. A new, 1GHz single-core Spreadtrum chip will be powering the Firefox OS-based device.
As we argued not too long ago
, an era of dirt-cheap smart devices may very soon be upon us, and so far it seems that Mozilla's Firefox OS will be leading the charge.