Victim of cramming by Verizon or Sprint? December 31st is the deadline to claim a refund
7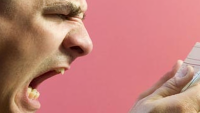 Last May,
Sprint and Verizon settled cramming charges with the FCC
. Some subscribers of the two carriers were charged from 99 cents to $14 for each premium text they received, but did not request or order. Content they were billed for included horoscopes, jokes, weather and more. The average amount charged to unsuspecting subscribers was $9.99 a month. Verizon kept 30% of the revenue generated from this aptly named cramming, while Sprint kept 35% of the money generated.
As part of the agreement with the FCC, Verizon will refund $70 million to its customers. $20 million will go to state governments that participated in the legal battle against the nation's largest carrier. Sprint will return $50 million to its subscribers, with $18 million going to stare governments. To receive a part of the settlement, you need to click on the appropriate sourcelink to file your claim.
If you need to speak to the FCC about this, and you are a Big Red subscriber, call 1-888-726-7063. Sprint customers who need to talk to the Feds can dial 1-877-389-8787. Keep in mind that the deadline to file for a refund is December 31st, which is a week from today. So if you have been crammed by Verizon and Sprint, and it has left a bad taste in your mouth, make sure you get your claim in before the ball drops in Times Square.
source: CrammingRefund (
Verizon
,
Sprint
) via
BGR