Verizon's version of the LG Optimus Vu to be named "Intuition"
27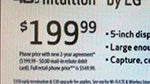 LG's 5" phablet has the US market
square in its sites
, and now we know more about the version that is headed to Big Red. According to tipsters speaking with Droid-Life, Verizon will emblazen their version of the Optimus VU with the name "4G LTE Intuition by LG". This perpetuates the obnoxious habit of coining names with far too many words in them, but we expect it will just be known as the LG Intuition in day to day parlance anyhow.
We also get pricing news, as the Intuition will sell for $199.99 on contract, or $549.99 at full retail. It's somewhat of a relief to see Verizon start to introduce more LTE handsets at the $199 price point, especially an oversized device like this that could have felt like it costs more because there's just more stuff to hold.
This will be Verizon's first phablet, as they decided to pass on the Samsung Galaxy Note last year. We can imagine they thought it would be a niche product, a suspicion many of us shared until it turned into the surprise blockbuster of the year. Now that the phablet market has been demonstrated to be a winner, we suspect it won't be long before the Intuition is joined by similarly oversized devices by HTC and Samsung.
So if you are on Verizon and want to get in on the phablet action, hang tight as the cavalry appears to be on the way!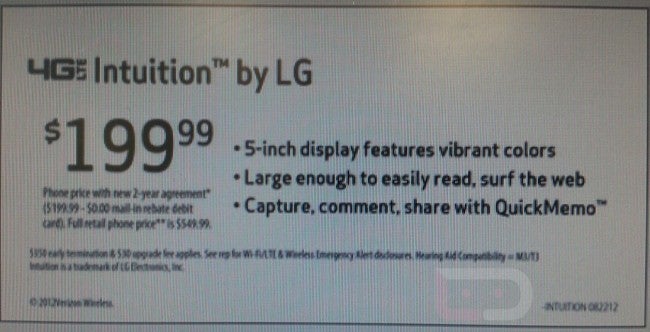 source:
Droid-Life
Recommended Stories