Verizon's network fails ahead of Verizon iPhone 4 launch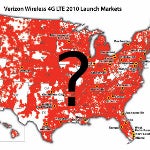 The Verizon iPhone 4 is not only a game changer for Big Redand AT&T, but also a challenge to the carrier's network. And now,at the worst time, just two weeks before the launch of the muchanticipated handset, Verizon's usually rock solid network showedsigns of instability. Yesterday, it was parts ofVirginia which suffered an outage for several hours in theafternoon leaving users with no service whatsoever.
But bad as it is, it wasn't the onlyissue with Big Red's network as data services were down forBlackBerry users as well. Those reports were not that consistent and'Berries still had voice service, but all this comes to show that thebiggest U.S. carrier has its fairshare of network problems. We hope that these were just isolatedinstances, but some reports suggest Verizon was testing its network.There was no official statement so far to point out the reason forthe outage.
Despite the iPhone's track record ofbeing a notorious traffic eater, Verizon was confident about itsnetwork capacity at the launch event for the CDMA iPhone 4.

UPDATE: Additional reports suggest that only select areas in the Commonwealth of Virginia were affected. Reportedly areas around Hampton Roads went down at around 1:30 pm EST. Service was swiftly restored at around 3:50 pm EST. Affected areas included Williamsburg, Newport News, Norfolk and Virginia Beach. Problems were also reported in North Carolina.

Thanks,joehenrymayfield!