Verizon's Viewdini video aggregation service goes live in the Play Store
4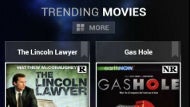 If you carry an Android 2.2+ handset with Verizon's 4G LTE plans, today is your video aggregation service day. The carrier just pushed its
Viewdini creation
live at the Google Play Store, so you can take it for a spin.
Hulu, Netflix, mSpot and Comcast's Infinity, as well as a variety of cable operators are in store to be scoured once you look for a video, and the results returned to you with prices to buy or rent, the synopsis and the actors' bio.
It is the alternative of a TV guide with showtimes of TV series, reviews and so on, with the notion that it is still a video aggregator that takes its info from a variety of sources.

<