Verizon's End of Year Savings promo includes the Moto X, three Droids, HTC One and Samsung tablets
6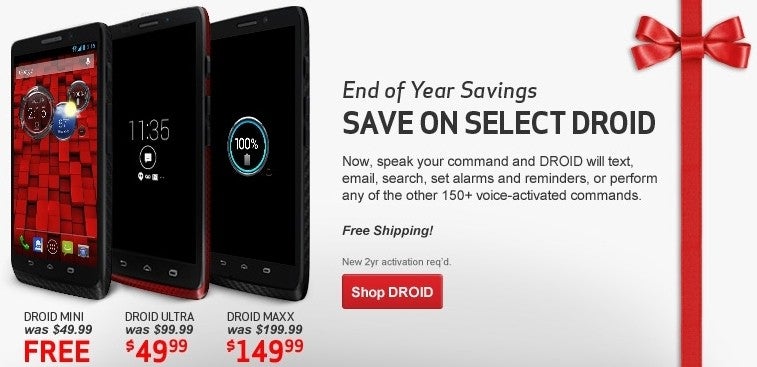 Verizon is offering its
Moto X
for only $49.99 once again - after first doing it
in mid-November
. This time, the deal is part of the carrier's End of Year Savings promotion. Naturally, to get Verizon's Moto X at just $49.99 you need to sign a new two-year contract agreement.
Also part of the promo are Verizon's three latest Motorola Droid smartphones (for which
Android 4.4 KitKat updates
are already rolling out). The Droid Maxx costs $149.99 on contract, the Droid Ultra can be had for $49.99, while the smaller Droid Mini is free. If that's still not what you're looking for, the HTC One is on sale, too, as Verizon is offering it for $49.99 on contract.
Maybe you want a new tablet? Verizon has got you covered in this are as well. Its Samsung Galaxy Tab 2 7.0 is now $99.99 on contract (down from $299.99), the Galaxy Tab 2 10.1 costs $249.99 (down from $449.99), while the Galaxy Note 10.1 is priced at $399.99 (down from $599.99).
As you had probably guessed, Verizon's End of Year Savings promotion will last until December 31 (this Tuesday). But there's enough time for everyone to get a new smartphone or tablet on the cheap.
sources:
Verizon
,
Motorola