Verizon vs AT&T, T-Mobile and Sprint Q1 metrics bode well for T-Mobile's strategy
4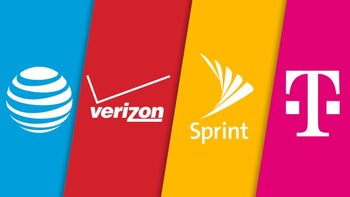 Buoyed by all the noise around
Sprint's merger with T-Mobile
, one could easily lose sight of the big picture, namely that the big two carriers still hold the lion's share of US subscribers, and even if T-Mobile ties the knot with Sprint, the combined carrier will still be way smaller than AT&T.
If you want to know how did the big four mobile carriers do in the last quarter, look no further than the research firm Strategy Analytics' report that ranks Verizon, AT&T, T-Mobile and Sprint by subscribers, net adds (including the valuable postpaid segment), and the average monthly churn rate that crudely shows how satisfied the users are with the respective carrier.
| | Subscribers (millions) | Net Adds (millions) | Postpaid Adds (millions) | Monthly Churn |
| --- | --- | --- | --- | --- |
| Verizon | 151.482 | 1.025 | 0.220 | 1.28% |
| AT&T | 143.832 | 2.63 | 0.042 | 1.62% |
| T-Mobile | 74.018 | 1.433 | 0.76 | 2.22% |
| Sprint | 53.6 | -0.019 | 0.185 | 2.33% |
| U.S. Cellular | 5.063 | -0.033 | -0.010 | 1.65% |
That same churn rate is slightly up for the big two - Verizon and AT&T - but still way lower than at Sprint or T-Mobile. For Big Magenta, however the churn rate dropped slightly, and it had the biggest increase in the valuable postpaid adds of all four major carriers. This can't be said about Sprint, whose churn rate is also very high, yet it lost subs, showcasing very clearly that once
Sprint's promos start expiring
, customer loyalty started to taper off.
T-Mobile used to be in a price war with them all, but now it's gotten its
prices on par with its Verizon
nemesis, yet it remains everyone's popular underdog of a carrier. We recently compared the
new unlimited plans
of the big four, and there is indeed very little difference in pricing now, save for Sprint, which, however, has some catching up to do when it comes to
coverage
outside of large cities.
As you can see from these latest Q1 stats, even when combined, Sprint and T-Mobile will be trailing the second AT&T at quite the margin, but hopefully, if the merger goes through, it will mean a litany of deals and discounted plans so that the
new T-Mobile
can carve extra market share for itself with the savings of scale it can achieve after the deal.