Verizon updates its ETF policy, now it will be a bit more expensive to duck out of a contract
18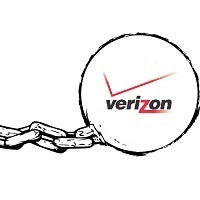 America's largest wireless carrier has made some significant changes to its early termination fee schedule, which is now in effect.
Under the old schedule, the initial early termination fee of $350 would be reduced by $10 per-month as a two-year contract progressed. Under the new schedule, the ETF remains at $350 for the first seven months of the two-year contract period.
Starting at the eighth month, and through the 18-month mark, the ETF will reduce by $10 per-month. Beginning on month 19, and through month 23, the fee is reduced by $20 per-month. This effectively increases the final ETF at any given point during a contract, especially during the first year.
During the first year, an ETF will now only be reduced by $50, making the cost of breaking a contract $70 more expensive than under the old schedule. Canceling 18 months into a contract, the ETF is $80 more expensive, and at month 23, the ETF is $30 more expensive.
While motivations for the change could be argued from a variety of angles, this is likely aimed squarely at competitors that run promotions agreeing to pay off early termination fees for customers that switch away from Verizon. Frankly, given the gains that T-Mobile has been making the past two years, it is a safe bet this change is aimed directly at Team Magenta.
How big a dent could this make? Assuming that over the past year-and-a-half, T-Mobile was able to lure away at least half-a-million Verizon customers, the dollars add up. If you were to measure the cost of paying off the ETFs of the last 500,000 customers who made the switch one year into a two-year contract, the ETF costs would be roughly $115 million under the old schedule. Based on the new fee schedule, that cost would be $150 million. Even in an era where businesses make billions, and governments spend trillions, $35 million is still real money.
The new ETF structure applies to feature phone customers too, with the fee stating at $175, declining by $5 per-month beginning at month eight, then $10 per-month at month 19.
Anyone that signed a two-year contract with Verizon before November 14th is obligated under the old fee structure.
source:
Verizon
via
Droid Life