Verizon tops J.D. Power customer survey for fourth consecutive time
18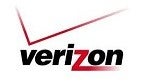 "Big Red" keeps the top spot in J.D. Powers & Associates' semi-annual survey about the full-service wireless carriers.
There was some shifting amongst the other three national players however, AT&T took the number two spot, scoring just slightly below Verizon. The United States' number one and two carriers by size also scored above the industry average as well. Sprint and T-Mobile did not fare quite as well, scoring at a distant third and fourth respectively and below the industry average.
What contributed to the outstanding showing of the two larger carriers? The shared data plans believe it or not. J.D. Power pointed out that the shared data plans have been well received and the satisfaction levels of customers who adopted the new plans scored even higher. Spending per household was also up about $30 per month, perhaps accommodating new smartphones being added to plans recently. Verizon offered some credit to its efforts to make a strong social-networking presence as part of its image.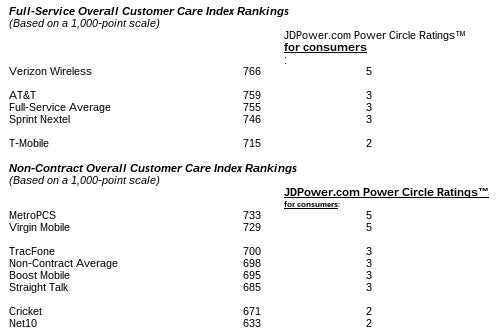 Image JD Power & Assoc.
The scores are measured out of a possible 1000. Verizon scored 766 and AT&T 759. The industry average was 755. Sprint and T-Mobile scored 746 and 715 respectively. J.D. Power & Associates also surveyed consumers of pre-paid services. MetroPCS took the top spot with a score of 733 with Virgin Mobile right behind at 729.
The surprises with the newest survey are AT&T and T-Mobile. AT&T historically has not done as well, and T-Mobile USA is widely regarded for having very good customer service. Are the times changing?
source:
CNET
Recommended Stories