Verizon to double LTE coverage to 400 markets in 2012, hints at LTE iPhone this year
19
Verizon Wireless already has the largest 4G LTE network covering 200 million Americans, most major metros and - not counting several outages - it delivers solid speeds of up to 12Mbps on the downlink. But Big Red won't settle on this - it's planning to
double its coverage to 400 markets
in 2012.
Verizon's chief technical officer David Small upped the carrier's projections from 250 million to 260 million Americans covered by 2013. This would mean that every state except for Alaska will be covered.
Verizon also dropped a huge hint by saying that all smartphones it carries in 2012 will be LTE compatible.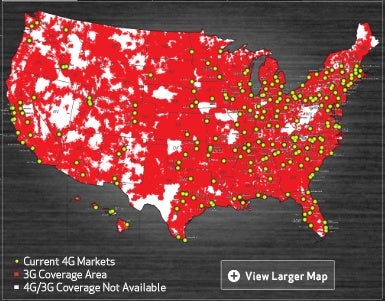 This, of course, means that the upcoming iPhone will also feature LTE connectivity. It's a logical step forward after the third-gen iPad came with LTE support.
An
LTE iPhone
could switch the iPhone momentum from AT&T (which is currently selling the most iPhones) to Verizon. In Q4 2011, AT&T sold a whopping 7.6 million iPhones, while Verizon Wireless scored 4.2 million iPhone sales. Would you be willing to jump ship to Big Red if it gets an LTE iPhone this year?