Verizon shows off changelist for Motorola DROID 3 update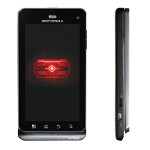 Verizon has posted on its website the changelist for the Motorola DROID 3 update currently being soak tested
.
The 5.7.905.XT862 update comes in at 230MB and
unlike the update for the Motorola DROID X2
, this one has a long changelist. Included in the list is a Google security patch for added level of protection. A bug is fixed that used to turn the device on without user interaction. You can now avoid interruption when trying to access an app before storage media is fully mounted on the phone and
improvements in power cycles should prevent the phone from rebooting constantly
. Additionally, the DROID 3 will no longer lock up and reboot when connected to Bluetooth and HDMI.
Those with the Motorola DROID 3 know how
hard it is to use the camera on the phone
. Improvements in AutoFocus will help cut the shutter's response time and enhance the quality of pictures taken. The Wireless Alerting System will be aboard the device after the update. The firmware update also lets you use a wired headset without hearing a high pitched noise. For those who travel often, Plus Code dialing has been improved making it easier to dial international calls. Using Bluetooth, playback media can be heard and using the contact widget a call can be made to the appropriate person. When moving apps to the microSD card, shortcuts to the apps will remain, and after updating the contact database from the Messaging App, the Messaging UI will display the latest contact information.
The update will allow you to post and play videos on Facebook and purchased ringtones
can now be downloaded, saved and used where appropriate
. Contact photos will display properly in Google Voice and VZ Navigator 3D City is now pre-loaded. Finally, the update will fix a problem that required excessive data usage and continuous downloading for VZ Navigator 3D City downloads.
No, the Motorola DROID 3 will most likely
not get Android 4.0
, but it remains a solid performer and users are just happy to see the manufacturer continue to support it.
source:
Verizon