Verizon rolls out radio update for the HTC Trophy
4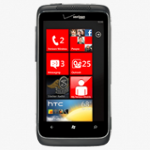 Some owners of the
HTC Trophy
are telling
WPCentral
that Verizon is rolling out a firmware update that corrects an issue with GSM roaming. Apparently, this problem occurs after the phone is brought back into the States from overseas where it was used on another network while roaming. The OS version remains the same at 7.10.7720.68, but the Firmware revision number is now 2305.13.20110.605 and the Radio software number is 2305.13.20110.605.
HTC Trophy users should note that this update is not
the 8107 OS update
that fixes a number of bugs
including a disappearing keyboard
, and adds some new features including a switch that allows
the time on the phone
to come from the carrier. Another new feature allows the user to select which kind of data connection the phone will connect to, like a 3G connection or EDGE for example.
There is some troubling news for those who took matters into their own hand and installed a version of the 8107 update on their Trophy. Doing this
prevents the phone from downloading the radio update
and there seems to be no solution for those who did this. This is why it usually pays to wait for an official update from your carrier.
source:
WPCentral