Windows Phone getting update to fix disappearing keyboard and more
14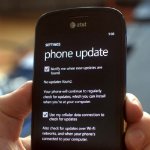 Windows Phone is getting another maintenance fix that will squash a number of bugs in the OS, but we still have to wait and see whether or not US carriers will push the update to users. Last month, Microsoft issued a minor maintenance update with Windows Phone build 7740 (Mango is build 7720), which had fixes for Exchange 2003 e-mail support and voicemail notification issues, but US carriers never pushed the update to users.
This new update is build 8107, which includes the 7740 updates, but adds a whole mess of new fixes, including: fixing the bug which caused the keyboard to disappear from the screen, improving syncing with Gmail, and it revokes certificates issued by DigiCert which were causing an encryption problem. There is also a fix to a location service, but the changelog has been translated from Italian, so it's hard to tell exactly what is being fixed with it. The direct translation reads: "It solves a problem of access to the location. After the upgrade, the function IO hub sends to Microsoft anonymous information contact the Wi-Fi access points and antennas for mobile phones in the vicinity, only if you have allowed access to and use of location information from part of the 'I'm here.'" This makes it sound like the phone was sending your location anonymously, but without permission after an upgrade, but now it will only do so if you've agreed to the location access.
This is making for a pretty sizeable update, so we certainly hope that US carriers get on the ball and push this one out. In the meantime, it seems to be rolling out to some carriers in Europe now.