Verizon pushes out the G7 software update for the Samsung Galaxy S III
29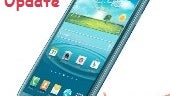 Yesterday
we informed you
that Verizon was soon to be sending out a new
firmware update version I535VRALG7
for the Samsung Galaxy S III. Usually in the past, these updates take a week or so to be pushed-out once Verizon posts their on-line upgrade guide. So we were a bit amazed that after 12am this morning,
the update for the Galaxy S III went live
.
The file size is 30.9MB, so it doesn't take too long if you are connected to 4G LTE or Wi-Fi. After it is downloaded, it will ask you to accept the terms and that the phone will restart and can't make any calls during the process. The actual update takes about 5 minutes, and the phone will reboot once finished.
Tip:
For those of you with the stock F2 or G1 firmware and who happen to be rooted or have your bootloader unlocked
, we suggest first installing the VooDoo OTA RootKeeper app (download
link
) to back-up your current root, and use the VZW GS3 EZ-Unlock app (download
link
) to temporarily re-lock your bootloader first. Then download and install the new G7 software update. After it is completed, use VooDoo to restore your root, and EZ-Unlock to unlock the bootloader again. But if you are running a custom ROM (ICS or JB) and want to try the G7 update, you'll have to use the ODIN program to flash back to stock I535VRALF2 first.
The main fix in the I535VRALG7 firmware is that it
will resolve the "No SIM" error message
that some people have been receiving, despite them changing out their SIM for a new one. Other benefits include improved stability and connectivity with Back Up Assistant, support for viewing the Guided Tour video's over the cellular network, improved
data
connectivity when using SBeam, and NFC tagging issues resolved. One last
benefit
is that it adds
Verizon's Remote Diagnostics
, which allows Verizon Support remote access of your phone to help resolve any issue you may have when you call them with a problem.
At this point, we hope that the official Jelly Bean update isn't too much further away!
Let us know in the comment section below what you think of the new G7 update.